My high hopes of being in shape started when I moved to North Carolina 10 years ago.  Due to scheduling conflicts and the kids sleeping schedules, my best bet is the stationary bike in our house.
We have a love/ hate relationship. It's mainly one sided meaning it's me, not the bike.
This is its current purpose in my life.
I know. Sad. And yet admit it… some of you can relate.
A long time ago before kids and when we were just starting out living together, hubby encouraged me to go to the gym with him. I thought how awesome.
I could wear my cute work out clothes.
We could bond!
Wrong.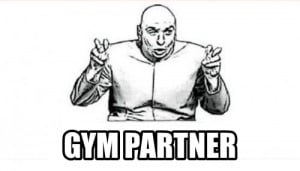 Turns out he likes to work out and NOT talk.
So much for all those great commercials showing talking on the treadmills and passing the time that way. Hubby told me that's not how it works and I should bring a book or magazine and read while I walk or pedal on a bike.
So, I brought my book. I love to read so I forgot all about pedaling.
Can we say gym drop out?
That's exactly what happened.

Then, I thought it would be great if he bought me a stationary bike for the house.  I could watch my shows and work out. Never mind that he presented it as a gift for our anniversary. Not quite what I had in mind but it did work!!! I was back on the bike!
For two weeks anyway.
Fast forward a few years (more than I care to admit) and I was determined to be serious about getting fit. I pedaled almost every night for one month. I even ran a 5k (more on that one another time) and then, I retired from running.
I just got lazy again.
Like all famous people do, I am coming out of retirement and determined to get back on it…
Just as soon as I read this new book I got.